---
---
HOW IT WORKS
How Pheromones Induce A Sexual Response
Pheromones Bypass The "Rational Brain" To Target Women's Ancient, Instinctive Mating Behaviors!
All men release pheromones into the air via our sweat…
… And these chemical messengers subconsciously communicate information to women about our physical state, genetic make up, immunities, and more, all in hopes of arousing an instinctive sexual response.
HYPOTHALAMUS
Glands in our armpits, genital regions, and navels secrete a clear liquid that contains pheromones.
OLFACTORY TRACT
Our pheromone scent reaches the noses of women.
OLFACTORY NERVES
The olfactory system (starting with the nose) bypasses the RATIONAL brain.
VOMERONASAL ORGAN
This information is fed directly to the brain center in a women's brain.
PHEROMONES
If the information communicated by our pheromone scent is positive (i.e. this guy is healthy, fit & fertile) then a sexual response may be observed.
READY TO CREATE
SEXUAL CHEMISTRY
ON DEMAND?
Get your
Nexus Pheromones™ Today!
SCIENTIFIC PROOF
Nexus Pheromones™

Scientific Proof That Pheromones Play A Key Role In Attracting Women and Arousing Them Sexually
Nexus Pheromones™ has been formulated with extensive reference to over 12 years worth of scientific studies in the field of human sex pheromones.
Here's just a small sampling of the studies that demonstrate the role of pheromones in human sexual behavior, mating, and attraction: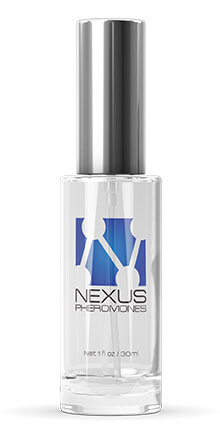 ---